Vimal Mehta, Ph.D.
Chief Executive Officer & Founder
Dr. Mehta brings over two decades of experience in the pharma and biotech industry, during which he has successfully designed and implemented innovative solutions, established global commercial operations, and led cross-functional teams. During his career, he has garnered a deep understanding of the biopharma and healthcare ecosystem and has been actively involved in generating a range of value creation initiatives in corporate strategy and planning, global business development and corporate fundraising. He is a Co-founder, Chairman of the Board and Chief Executive Officer of BioXcel Corporation. Dr. Mehta has held various senior scientific and business development positions, including Senior Vice President of Business Development at Inpharmatica Ltd. and Jubilant Life Sciences. Previously, Dr. Mehta served as Business Development Manager at CuraGen Corporation. Dr. Mehta holds a Ph.D. in chemistry from the University of Delhi, India and completed a Post-Doctoral Fellowship in chemistry at the University of Montpellier, France.
Frank D. Yocca, Ph.D.
Chief Scientific Officer
Dr. Yocca is an accomplished R&D executive and scientist with extensive experience leading global biopharmaceutical companies. He has wide-ranging expertise in leading high performance, world-class teams in drug discovery and development whose efforts have resulted in a number of prominent neuroscience products including Buspar®, Serzone® Abilify® and Heltioz®. Frank has held various leadership roles at Astrazeneca and Bristol Myers Squibb. He is a recognized scientific leader in the neuroscience community and member of the Institute of Medicine of the National Academy of Science, and a Fellow of the American College of Neuropsychopharmacology. He has 45 referred articles, 96 abstracts and 65 invited presentations. Dr. Yocca holds a B.S. in biochemistry from Manhattan College and an M.S. in pharmacology and a Ph.D. in neuropharmacology for St. John's University.
Vincent J.O'Neill M.D.
Senior Vice President & Chief Medical Officer
Dr. O'Neill has proven expertise in therapeutic and diagnostic product development and has held senior leadership roles at global pharmaceutical companies, including Sanofi, Genentech and GlaxoSmithKline. Most recently, he served as Chief Medical Officer at Mirna Therapeutics and Exosome Diagnostics, where he oversaw global product development and medical affairs. At both Genentech and GlaxoSmithKline, he managed the clinical and biomarker development programs of several oncology therapeutic candidates. He was instrumental in the expanded approval of Genentech's Avastin® and Tarceva® oncology therapeutics. At GSK, he oversaw the signal transduction discovery unit and led the first IND application and clinical trial of the MEK inhibitor MEKINIST®. He has authored several peer-reviewed publications and conference presentations. Dr. O'Neill is also a member of the Royal College of Physicians. Dr. O'Neill received his M.D. and B.Sc. in molecular pathology from the University of Glasgow, Scotland.
Richard I. Steinhart
Vice President & Chief Financial Officer
Mr. Steinhart brings significant financial and strategic experience in the biotechnology and medical device industries. Prior to joining BioXcel Therapeutics, Richard served as Vice President and CFO at Remedy Pharmaceuticals, Inc., until it sold its only asset, CIRARA, to Biogen for $120M plus earn-outs. Prior to joining Remedy Pharmaceuticals, Mr. Steinhart served as an independent consultant to biotechnology and medical device companies. Previously, Mr. Steinhart was the Senior Vice President, Finance and Chief Financial Officer of MELA Sciences. Prior to joining MELA Sciences, Mr. Steinhart held a variety of senior-level positions at Forest Street Capital/SAE Ventures, a boutique investment banking, venture capital, and management consulting firm focused on healthcare and technology companies, Emisphere Technologies, Inc., and CW Group, Inc., a venture capital firm focused on medical technology. He began his career at PriceWaterhouseCoopers.
Mr. Steinhart is a member of the Board of Directors of Actinium Pharmaceuticals, Inc. and Atossa Genetics, Inc. He holds B.B.A. and M.B.A. degrees from Pace University and is a Certified Public Accountant.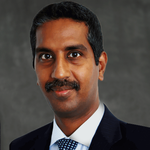 Chids Mahadevan
Vice President, Finance & Chief Accounting Officer
Mr. Mahadevan is responsible for leading the finance and accounting functions of the company and has extensive experience and knowledge of finance management in the software and pharmaceutical industries. Prior to joining BioXcel, Mr. Mahadevan was the Senior Vice President, Finance at GoldenSource Corp, an enterprise data management software company where he led the global finance and accounting team. Previously, he was the Director of Finance at inVentiv Health Inc. Mr. Mahadevan started his career at Ramco Systems, where he ultimately served as Head of Finance for the United States operations and the Finance Lead for the global aviation software segment. Mr. Mahadevan holds a B.S. in Commerce from Madras University. Mr. Mahadevan is a Certified Public Accountant in the United States and also a Chartered Accountant from India.
Cedric Burg, PhD
VP, Head of Global Clinical Operations and Project Management
Dr. Burg has over 20 years of experience in clinical operations and project management. Prior to joining BTI, Dr. Burg served as the head of clinical operations at Rocket Pharmaceuticals, where he was responsible for the overall clinical operations and program management. Prior to joining Rocket Pharmaceuticals, Cedric served as the vice president of clinical development and global project management at Chiltern International, a global contract research organization, where he was responsible for running the global late phase group, clinical development programs and managing projects across the company. Dr. Burg spent several years at Teva Pharmaceuticals and played a key role in the execution and delivery of worldwide clinical programs. As the Company's deputy head of global clinical operations, he was responsible for global operations and clinical development strategy across several geographies. Prior to that, Dr. Burg was the director of clinical trials and director of medical affairs at Teva Pharmaceuticals for Spain. Additionally, Dr. Burg has held key positions in clinical trial management at Bristol Myers Squibb and Phidea, a contract research organization.
Dr. Burg received a bachelor's degree in biology and life sciences from the American University, Washington D.C. and a master's degree in molecular and cellular biology from Rennes University, France. He earned his Ph.D. in molecular and cellular biology from Nantes University, France. He has authored several peer-reviewed publications and conference presentations.